Our Team
Markus Waldeck-Weiermair, PhD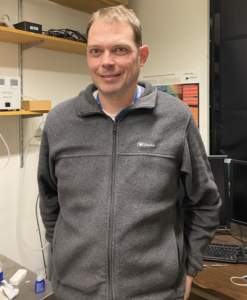 Research Interests:   I am building on my background in biophysical research to expand our understanding of cardiovascular biology in a translational medical context. My current research projects focus on endothelial cell redox and nitric oxide signaling in both physiological contexts and in disease states.
Fellowship: Erwin Schroedinger Fellowship FWF (Austrian Science Fund)
Education:  I did my master's degree in Pharmaceutical Sciences in 2003 at the Karl-Franzens University of Graz, Austria, and received PhD at the same University.  I used my skills in biophysics with a focus on mitochondrial Ca2+ signaling, metabolism and biosensor engineering,  first serving as a University assistant and then as a Senior Scientist at the Medical University of Graz, where I obtained teaching qualifications in Molecular Biology and Biochemistry.  In 2014, I did my Habilitation in Molecular Biology.
Hobbies:  Being a father, running, cooking, soccer,traveling
Hometown:  Waldneukirchen, Austria
Contact:  mwaldeck-weiermair@bwh.harvard.edu
---
Shambhu Yadav, PhD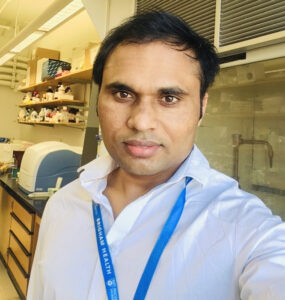 Research Interests:  I am passionately focused on redox metabolism and oxidant-modulated signaling in both cell and animal models.  Currently, I am studying the signal transduction in the cardiovascular and neurovascular system in health and disease with a focus on using chemogenetic approaches to dissect the role of cellular oxidants in neurodegenerative diseases.
Education:  BS-MS , Indian Institute of Science Education and Research, Mohali, India.  PhD in Redox Biochemistry from the Indian Institute of Science Education and Research
Hobbies:  Cricket (watching) and reading
Hometown: Ranchi, Jharkhand (Eastern India), India
Contact: syadav6@bwh.harvard.edu
---
Fotios Spyropoulos, MD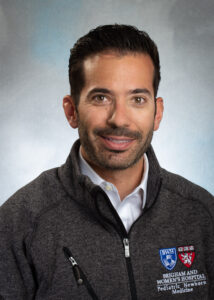 Research Interests:    I am interested in the role of oxidative stress in the regulation of cardiovascular function and metabolism.

Education:  I am originally from Greece, where I received my M.D. from the National and Kapodistrian University of Athens Medical School. I then did my Pediatric residency at University of Iowa and subsequently moved to Boston where I completed his fellowship training at the Harvard Neonatal Perinatal Medicine program.  I am currently an attending neonatologist at Brigham and Women's Hospital and an Instructor in Pediatrics at Harvard Medical School. He is involved in basic and translational research under the mentorship of Professors Thomas Michel and Helen Christou.
Hobbies:  Skiing, Sailing, Soccer 
Hometown:  Levidi, Arcadia, Greece 
Contact:  fspyropoulos@bwh.harvard.edu 
---
Arvind Pandey, MD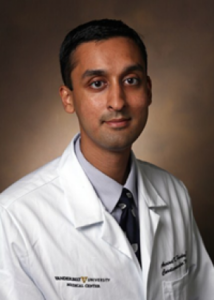 Research Interests:  My research interests are in the roles of inflammation in the pathophysiology of vascular disease.
Education:  I received my B.S. in Cellular and Molecular Biology as well as an M.D. from Tulane.  I did my Internal Medicine internship and residency at Johns Hopkins, followed by fellowship training in clinical cardiology at Vanderbilt, and vascular medicine subspecialty training at BWH.  I was recently appointed to the BWH Cardiovascular Medicine faculty, and am pursuing postdoctoral training with Professors Joseph Loscalzo and Thomas Michel.
Hobbies:  Basketball, Running, Cooking
Hometown:  New Orleans, LA
Contact:  apandey5@bwh.harvard.edu
---
Apabrita Das, PhD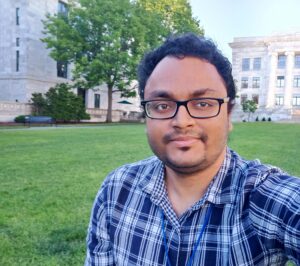 Research Interests:  I am extremely interested in redox biology and its connection with different diseases. Currently, I am working on a mouse model with tissue-specific oxidative stress. I am investigating vascular pathology caused by ROS and its effects on disease mechanisms. In addition, I am using -omics platforms to elucidate the relationship between oxidative stress and rare neuronal diseases.
Education: I completed my B.S from Visva-Bharati in Zoology and pursued my M.S. from Banaras Hindu University in Zoology with a special in Molecular and Human Genetics. I completed my Ph.D in Biophysics, Molecular Biology and Bioinformatics with a special interest in atherosclerosis and Coronary Artery Disease from CSIR-Indian Institute of Chemical Biology. 
Hobbies
North Indian Classical Flute, Hiking, Bird Watching
Hometown
Kolkata
Contact
adas7@bwh.harvard.edu
---
Taylor Covington, Harvard BBS PhD Student
Co-mentored by Ed Chouchani 
Research Interests: I am principally focused on redox regulation of vascular function in the context of cardiovascular health and disease.
Fellowship: John S. LaDue Memorial Fellowship for Vascular Biology Research
Education: I completed a B.S. in Biology and a B.A. in English at Boston College, where I was also a member of the varsity swim team (2016-2020). I am currently a second-year Ph.D. student in the Biological and Biomedical Sciences program at Harvard. Go Eagles! Go Crimson!
Hobbies: Swimming, lifting, watching sports, and trying new restaurants with friends!
Hometown: Gaffney, SC
Contact: tcovington@g.harvard.edu